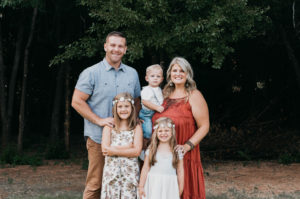 Jon married his high school sweetheart, Sarah, in 2010. They have have three children, Kamryn, Andi, and Jed. Jon trusted Jesus as his Savior in 1993, surrendered to the ministry in 2007 and served in youth ministry for 8 years before launching Grove Community Church in 2018.
He desperately desires to see lost people saved, saved people free, free people discipled, and discipled people mobilized making a difference for the Kingdom of God. He is passionate about helping people move beyond the bondage of going through the motions of church and merely trying to appear Godly into a vibrant relationship with God.
He loves to play sports of all kinds and is a committed fan of the OKC Thunder, Dallas Cowboys, and Oklahoma Sooners.